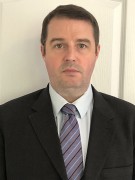 Joel Baglole
About Joel Baglole
Joel Baglole has been a financial reporter for more than 20 years. For five years, Mr. Baglole was a staff reporter at The Wall Street Journal, where he wrote articles from Iceland to Indonesia and covered topics ranging from the automotive and airline industries to investment banks and global stock markets.
Mr. Baglole has also worked for The Washington Post and Toronto Star newspapers, and has contributed to business focused websites such as The Motley Fool and Investopedia. At InvestorPlace, he covers a wide range of large and small cap stocks, as well as political and economic issues that impact financial markets.
Check out Joel's TipRanks profile.

Join InvestorPlace Insights — FREE!
Get actionable advice from our top experts, including the hottest stocks to buy & sell, 401k and retirement tips, market analysis and more!
Recent Articles
Disappointing delivery numbers for the month of August have Chinese electric vehicle stocks trading lower today.
The so called "smart money" is betting on a rotation back into technology stocks as inflation cools and the prospect of fewer interest rate hikes nears. With technology stocks back on the radar of professional money managers, we offer up seven hot tech stocks for investors to buy this September.
Over time, dividend payments can add up significantly and many people come to depend on them as a source of income, particularly in retirement. Investors with big stock holdings can earns millions of dollars a year from dividend distributions.
Not only is nuclear energy cleaner and better for the environment than oil and natural gas, but it is also cheaper and would provide countries such as the U.S. and those in Europe with true energy independence, alleviating the need to rely on questionable regimes in countries such as Russia and Saudi Arabia.
What started out as a fad on Wall Street in early 2021 continues today as a number of familiar stocks are targeted by retail investors and their share prices pushed higher in coordinated short squeezes.