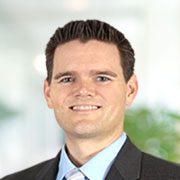 Wade Hansen
Editor, Strategic Trader
About Wade Hansen
Wade Hansen has been involved in investor education for his entire career. Most recently, he co-founded Learning Markets and PFX Global to help individual investors learn to take control of their investment portfolios.
He has also created investment courses in stock, options, futures and forex trading for Yahoo! Finance, Saxo Bank and the thinkorswim Group.
Wade has an MBA from the University of Utah and a B.A. in Communications from Brigham Young University. He is actively involved in managing his own stock, options and forex portfolio.
Wade is the co-author of the book Profiting with Forex, published in 2006 by McGraw Hill. He has also written articles for Forbes, Yahoo! Finance, Stocks & Commodities Magazine and NASDAQ.com. Wade's investment commentary and educational articles are regularly featured across the web and at www.learningmarkets.com.
But Wade also has another skill set that is equally important to your trading success. He is both a natural-born teacher and coach, talents he also showcases at Strategic Trader, Learning Markets and PFX Global, which he co-founded with fellow Strategic Trader editor and strategist John Jagerson.
Wade is co-editor of Strategic Trader where he combines two great passions in order to help investors gain more confidence and make bigger profits trading stocks, covered calls, short puts and both levered and unlevered exchange-traded funds. He lives and breathes investing — virtually every aspect of it, from stocks and options to futures and Forex.

Join Trading Opportunities — FREE!
Get real-time stock & options trades from our all-star lineup of trading pros... delivered straight to your inbox.
Premium Services

With Strategic Trader, you can turn volatility in the options market to YOUR advantage. By focusing on hidden trends in mainstream news and company data, John Jagerson and Wade Hansen find unique trades that deliver a steady, reliable stream of income to your account.
Options (Covered Calls, Put Writes)

Moderate

1-3 trades per week
Recent Articles
Have you ever wondered how analysts and reporters determine if the market is going to open higher or lower than it closed yesterday? Stock traders typically look at two sources. Find out what they are here.
Short squeezes cause swift, violent moves up in stocks, and they are very expensive for the people caught on the wrong side of the trade -- the short sellers. But they could lead to a quick profit for an investor with a canny eye who can spot one on the way.
Many investors struggle with the task of determining where to set their stop loss levels. Set it too far away and you'll lose too much money if the stock moves in the wrong direction. On the other hand, if you set them too close, you'll lose money by being taken out of the trade too early. Let's take a look at three methods you can use to determine where to set your stop losses.
Although valuing a stock based on its dividend may have fallen out of style for a while, let's take a look at some of the benefits of investing in stocks with high dividend yields versus investing in high growth stocks. Plus, get details on five dividend paying stocks to buy now.
Learn the differences between these two styles of options and how they affect risk premiums.